#788 – Dogwood Apartments, Dogwood Lane, Milan, TN 38358
3-building apartment complex containing 20 2-story units
Incredible investment opportunity in great location.
Unlimited commercial opportunities for these 2-bedroom units situated in ideal location near shopping, health and public safety facilities.
Features:
1 Brick, 2 Vinyl Exteriors;
Each unit is 2 bedrooms, 1.5 baths;
Each unit has front and back entrances;
Carpet/Hardwood Flooring;
Central Electric AC;
Slab Foundation;
Blacktop Parking;
40 parking spaces;
Built 1979;
21,200 +/- sq ft heated.
Income Prospects:
Income when all units rented: $11,000 per month;
Utilities paid by Tenants.
Legal, Municipal:
Milan City Limits;
Taxes: City – $4063.00, County $2,456;
Public Water and Sewer;
Map 143C, Parcel 018.00 & 019.00.
Jesse Alexander
Real Estate Agent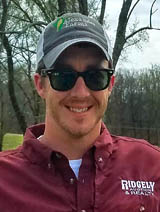 Jesse Alexander is a 2004 graduate of Milan High School and former collegiate athlete at Bethel University in McKenzie, Tennessee. Jesse is familiar with the landscapes and communities of West Tennessee and can't wait to help YOU make your dream home a reality. Whether you dream of a home near schools and convenient shopping or your own country paradise, Jesse can pave the way for a stress-free home buying experience.
Jesse is experienced in both land development and agriculture, having previously worked for Alexander Erosion Control Services and as owner/operator of his own farming enterprise near Medina where he supplies the local farmers market with fresh fruits and vegetables and locally grown produce. He was also instrumental in bringing the Farmers Market concept to downtown Medina.
He's an avid outdoorsman, enjoying hunting, fishing, farming, and the breeding and training of championship caliber hunting dogs. In 2012, his dog Coma finished third in the nation at the CHKC National Trials.
With a true love for the land, Jesse excels in marketing hunting and/or recreational property, row crop, timberland, and development land, but he is just as at home showing downtown properties and commercial enterprises. If you are considering buying or selling a home or land in West Tennessee, Jesse Alexander is here to help. Give him a call today at 731-571-1056.
Phone:
Office: 731-987-2847
Cell Phone: 731-571-1056
Would you like to convert your assets to cash?
If you are considering an auction or are buying or selling real estate, Ridgely Auction and Realty can be your best asset. We work hard to earn your business. We're a full service auction and marketing organization: We plan your the sale and advertise aggressively using a variety of media tailored to your needs. From organizing and marketing to cleaning, setting up, clerking, and executing a successful auction, we work hard to ensure a maximum return for your investment in our services.